HOUSTON - Russo's New York Pizzeria announces its first location in Manila, Philippines. Chef Russo inked a multi-unit development agreement to open stores with the Le Frank Group. Read more on franchising.com
HOUSTON (KIAH) — It's International Women's Day and Houston Happens host, Maggie Flecknoe is honoring women in our lives and community. Read more on CW39 Houston
Texas-based Russo's New York Pizzeria & Italian Kitchen has signed a five-unit franchise deal in Qatar, fulfilling a key geographic goal in the franchisor's international expansion strategy, according to a press release. Read more on pizzamarketplace.com
US-based Russo's New York Pizzeria & Italian Kitchen has opened its fourth restaurant in Riyadh, Saudi Arabia. Read more on verdictfoodservice.com
Russo's New York Pizzeria has become a leader in the saturated New York-style pizza category. The concept was founded in 1994 by chef Anthony Russo, who is the son of Italian immigrants. Read More on 1851 Franchise
May 19, 2018 -- Forbes / Franchises by Ed Teixeira
Just because a franchisor operates a small or emerging franchise network, it shouldn't exclude them from exporting their franchise brand to other countries, providing they meet certain basic requirements. In fact, there are large franchisors that based upon their performance and product are unqualified for international expansion. In some cases, a small franchise system may find the market in the U.S. so competitive, it might be in their interest to consider expanding into foreign markets. There are certain attributes that qualify a franchisor for international expansion but size alone shouldn't be the determining factor.
Russo's Restaurant Franchise
To gain some perspective on this subject, I spoke with Chef Anthony Russo, CEO of Russo's New York Pizzeria and Russo's Coal Fired Italian Kitchen. Based in Houston, Texas Russo's began franchising in 1998 and operates 30 franchise locations in Texas, Oklahoma, Arkansas, Tennessee, Florida and Hawaii.
I asked CEO Anthony Russo, how he came to take his franchise overseas. He explained that true New York style pizza wasn't available in many U.S. markets and foreign countries. He told me how the two restaurant concepts have built their reputations on being undeniably authentic in every way. While still franchising in the United States, Anthony started his foray in other countries by engaging the services of a broker. After one year, without success from the broker, he decided to personally exhibit at a franchise show in the Middle East, where he presented his pizza. He received a great response and currently has seven franchise units in Dubai with two more under construction. He also signed a development agreement for 10 locations in Saudi Arabia. After his success in the Middle East, he decided to target Western Europe where he had already exhibited in France and Spain. Unlike other franchisors, he uses a development agreement franchise model in each country rather than a Master Franchise agreement. He feels this approach is less costly for the franchisee and he doesn't risk giving up franchise rights to an entire country. As Anthony works on international expansion, he continues to franchise in the U.S.
I asked Anthony Russo what he considers the most important requirements for a smaller franchise to go International. His response: "Minimum 20 locations, a good system, strong corporate staff and sufficient working capital."
Regardless of size, the following are important qualifying factors for international expansion:
Suitable financial resources for an international project.
The franchise has a successful operation in the U.S.
Strong potential for expansion in other countries.
Franchisor staff is available and capable of training, servicing and supporting a franchisee in another country.
Franchisor leadership is engaged and committed to international expansion.
The franchisor can provide the operational and marketing knowhow
Operations and marketing manuals are current and up to date and marketing materials that can be adapted and translated for use in other countries.
The franchisor acquires or has familiarity with target countries.
When a franchisor considers taking their franchise concept to other countries, an important factor to consider is whether their franchise is qualified to expand to other countries. One factor, that should not disqualify a franchisor, is its' size. This doesn't mean that any franchisor regardless of system size is qualified to go overseas, but rather that smaller franchisors shouldn't rule out going international simply because of their size.
Russo's New York Pizzeria & Italian Kitchen is expanding internationally with deals in Qatar and London; we spoke to the founder, Anthony Russo, at the International Franchise Show in London.
(more…)
Award-winning, Texas-based upscale casual brand Russo's New York Pizzeria & Italian Kitchen has opened its fourth location in Riyadh, Saudi Arabia on December 19, 2022.. Read More. on Yahoo Finance.
Houston Multi-Unit Operator Signs Multi-Unit Agreement
Russo's New York Pizzeria & Italian Kitchen signs multi-unit deal with new franchise owners, Randall & Ayesha McCoy. The McCoy family has signed for a five store development deal for the Houston market. Randall McCoy was extremely excited to join the Russo's family, with history dating back to helping Anthony Russo at his first pizzeria in 1985. Today, even during the midst of a pandemic, he and his family have seen their dreams come true.
Randall McCoy states, "I remember grating mozzarella cheese, making fresh pizza dough, and leaving the restaurant covered in flour. So when I sat down to visit a Russo's after many years, the aromas of the pizza and pasta immediately took me back to those days. I could tell right away, Russo's was (and still is) all about quality ingredients."
With the announcement that the McCoy family has signed for this five store development deal, Anthony Russo states, "We are incredibly excited to have the McCoy family join us. It's never been a better time for Russo's New York Pizzeria & Italian Kitchen, as we have seen our sales thrive even in the midst of a global pandemic".
The McCoy family has plans to develop smaller units from 1500-1800 square feet featuring a full menu offering the freshest ingredients sourced directly from dairy farmers, tomato growers, and olive oil producers. All those fine, natural ingredients are used in all of Russo's kitchens each day to prepare homemade sauces, salad dressings, pizza dough, fresh pasta, and much more. Classic Italian menu items include: Truffle Tortelloni, Pappardelle Carbonara, Russo's Lasagna, Baked Ziti, Chicken Parmesan, Tuscan Vegan Pizza, Fettuccine Alfredo, Spicy Fennel Sausage Pizza, and much more.
Russo states, "Our locations are successfully designed to serve guests through dine in, home delivery, catering, takeout and curbside pick up. Our new 1500-1800 is designed for our franchisees to capitalize on the growing home delivery segment". Russo states, "This means that this is the best time for you to start your own pizza franchise. Pizza not only is surviving, it is thriving".
Russo's corporate support team is strong and collaborative with a franchisee-friendly corporate culture and is ready for expansion. What separates Russo's from the rest of the pizza industry is not only a great support team ready to tackle it all, but also the unique family recipes and fresh ingredients. With no additives or preservatives, Russo's New York Pizzeria & Italian Kitchen creates dishes from ingredients that are safe and reliable from trusted brands. Chef Russo adds, "Our mission statement is: 'If it isn't fresh, don't serve it.' That is the Russo family promise." The average store investment ranges from $350,000-$895,000. Qualified candidates must have at least $200,000 in liquid capital. To learn more about Russo's menu, lunch specials, delivery, takeout, catering, or to order online, please visit www.nypizzeria.com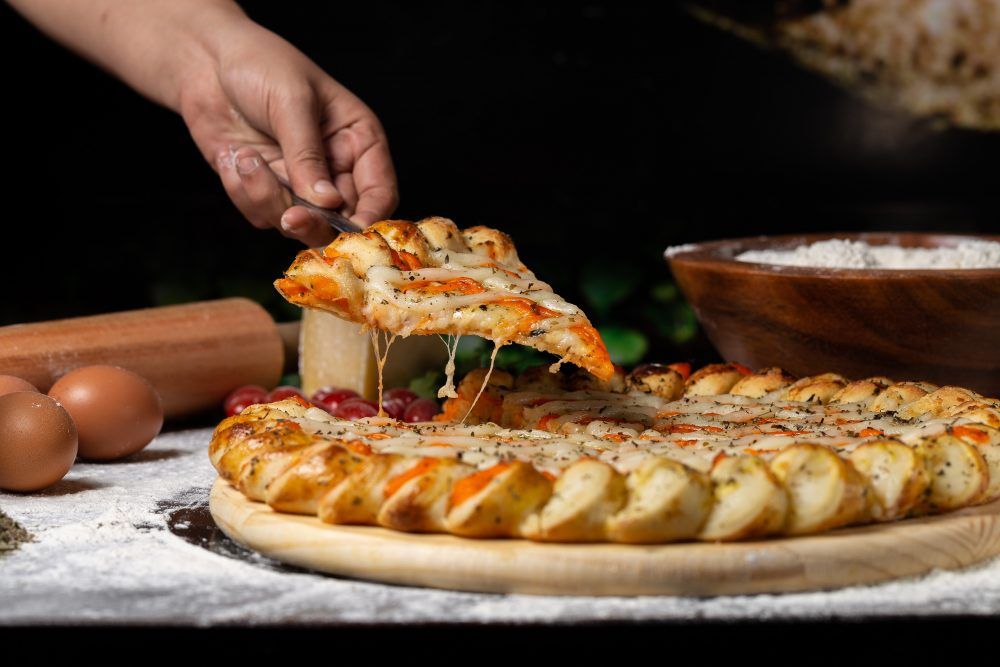 Look who is in the top 14 pizza places in Houston! Houston Public Media lets pizza lovers weigh in on their favorite 50 billion dollar industry local spots.